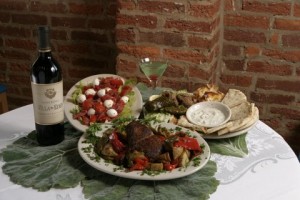 Dave's Taverna offers in-house and off-premise catering. Please review our catering menu and sample menus for details on our menu items and ideas for your next special event.
Rehearsal Dinners  ·  Wedding Receptions  ·  Graduation Parties  · Fundraising Events  ·  Birthday Parties  ·  Bridal or Baby Showers  ·   Job Recruitment Socials  ·  Corporate Functions  ·  Baptism & Christening Parties  ·   Reunions   ·  Church Functions  ·   Holiday Parties  ·   Charitable Events  ·  Golf Tournaments  ·  Office Parties  ·  Goodbyes and Welcome Homes
Click here to view our catering menu or scroll down to view some sample menus. 
Please contact catering@davestaverna.com for further inquiries.
Sample Menus
Sample Menu 1 (seated)
Appetizers
Bruschetta, Spanakopita
Salad
Greek Salad
Entrée (Please select prior to event)
Taverna Steak, Pastitsio, or Potato Crusted Fish 
Dessert
Cheesecake, Baklava, and Brownies
Non-Alcoholic Beverages
$24.50/Person
Sample Menu 2
Appetizers
Bruschetta, Spanakopita
Salad
Greek Salad
Entrée (Served family-style or guests select one entrée)
Potato Crusted Fish
Sides
Green Beans in Herbed Tomato Sauce
Dessert
Cheesecake
Non-Alcoholic Beverages
$22.00/Person
Sample Menu 3 (family-style)
Appetizers
Bruschetta, Keftedes (served with tzatziki)
Salad
Greek Salad
Entrée
Gyro, Souvlaki and Ham (served with taverna chips with tzatziki)
Dessert
Cheesecake, Baklava, and Brownies
Non-Alcoholic Beverages
$18.00/Person
Sample Menu 4
Appetizers
Bruschetta, Gyro Bites, Pizza Bites, Spanakopita, Pita Chips and Spinachoke Dip, Crudités and Fruit Platter, Keftedes
Dessert Assortment
Non-Alcoholic Beverages
$19.50/Person
Sample Menu 5 (Buffet)
Homemade Rolls and Butter, Greek Salad, Beef Brisket with Gravy, Garlic Mashed Potatoes, Green Beans in Herbed Tomatoes, Dessert Assortment
Non-Alcoholic Beverages
$17.50/Person
Sample Menu 6 (Buffet)
Garlic Bread, Greek Salad, Lasagna, Green Beans in Herbed Tomatoes, Dessert Assortment
Non-Alcoholic Beverages
$16.00/Person
Sample Menu 7
Appetizers
Bruschetta, Keftedes, Spanakopita
Buffet
Homemade Rolls with butter, Greek Salad, Linguine with Red Sauce, Linguine with Pesto Sauce, Green Beans in Herbed Tomato Sauce, Taverna Steak with Roasted Bell Pepper & Onions, Baklava, Cheesecake
Non-alcoholic Beverages
$35.00/Person